Who is Sarai Rice?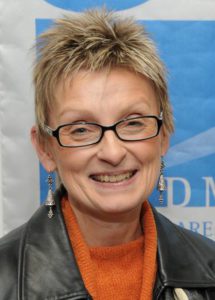 Sarai Rice is ordained in the Presbyterian Church (USA). Besides serving as a local congregation pastor and as Interim Executive Presbyter in two different states, she has taught Preaching and Old and New Testament in seminary and has directed ecumenical and interfaith non-profit organizations. She has a passion for work across the lines of faith traditions, especially in areas involving community ministry and social justice, as well as a deep commitment to the notion that human institutions should work well for the people they serve. While serving as an Alban Field Consultant, Sarai has consulted with congregations on a part-time basis while serving as the Executive Director of an interfaith non-profit whose principal work is providing nutritious food to low-income families through operating the largest networked emergency food pantry system in Iowa.
Philosophy of Practice
Change is inevitable, yet congregations struggle mightily with it. In my practice, I try to help congregations envision the particular work to which God is calling them. I help them embrace that work in dynamic and gracious ways and make the changes that are necessary to the accomplishment of God's call. These changes may include adopting new tasks and strategies, ending formerly successful programs, changing staffing patterns, adopting different budget priorities, redesigning buildings, or even changing beloved and comfortable committee structures. Always, though, the impetus for change as well as the energy and commitment to achieve it are products of a brave encounter with God's will and God's call.
Specialties
Planning and Program Development. Through a variety of methods and exercises, I help congregations create large- and small-group planning processes that are unique to their situation and that help them to identify God's call to their congregation in its particular time and place. I emphasize the need for story-telling as a way for congregations to reflect on their history and identity and also help congregations use demographic trends as a way to reflect on their context and their call. I enjoy helping congregational leaders come to clarity about who they are, who they serve, and how they behave.
Governance. Too often, congregations and institutions adopt wonderful, vital, compelling new visions and goals, but then fall back into familiar patterns. An essential part of my work is to help congregations determine the concrete changes they need to make in their current structures—staffing, budgets, committees—in order to reach new and different goals.
Coaching. I work with both pastors and lay leaders to assess areas of congregational life together where assistance is needed and to move toward congregational health.
Education
B.A., Northeast Missouri State University, Maryville MO
M.Div., Yale Divinity School, New Haven CT
Publications
"A Common Language," in Confessing Conscience: Church Women on Abortion, Phyllis Tickle, ed., Abingdon, 1990.
GEMS: A Manual for Persons Involved in Ecumenical Shared Ministry, co-editor, United Methodist Church, 1998.